OUR CORE PRODUCTS REIMAGINED AND COMBINED INTO ONE GROUNDBREAKING DEVICE

The IRM/C is a new product that combines the functionality of three devices into one. With the swipe of a finger, users have revolutionized and streamlined access to an incredible room pressure monitor, a MultiVIEW Monitor displaying up to 28 points, and an advanced I/O board that can easily be setup to control any space application ranging from a simple / small room to a large complex space with multiple touch screen monitors.

COMPLEX ROOM CONTROL MADE EXTREMELY SIMPLE

Setup and confirm complex room controls within minutes. Easily commission and troubleshoot with an intuitive touchscreen interface. No special tools, software, computer or programming degree required. Owner's staff or agent can easily setup and modify controls.

More access means less down time and more revenue based on space productivity. Unlike "generic commercial BAS controllers" the IRC is configured with safety as a priority.

Control and alarm all of these on one IRM/C device:
Up to 3 pressure relationships
Up to 3 exhaust valves
Up to 3 supply valves (with or without reheat)
Up to 3 independent temperature zones
All control types supported including:
Simple PID
Direct Pressure Control
Volumetric Offset
Variable Volume
MULTIPLE SCREENS, ONE INTEGRATED CONTROLLER

For applications that require multiple monitors or no monitor at all, the IRM/C is the right fit for your critical space. The IRM/C can support up to four 7" touchscreen monitors.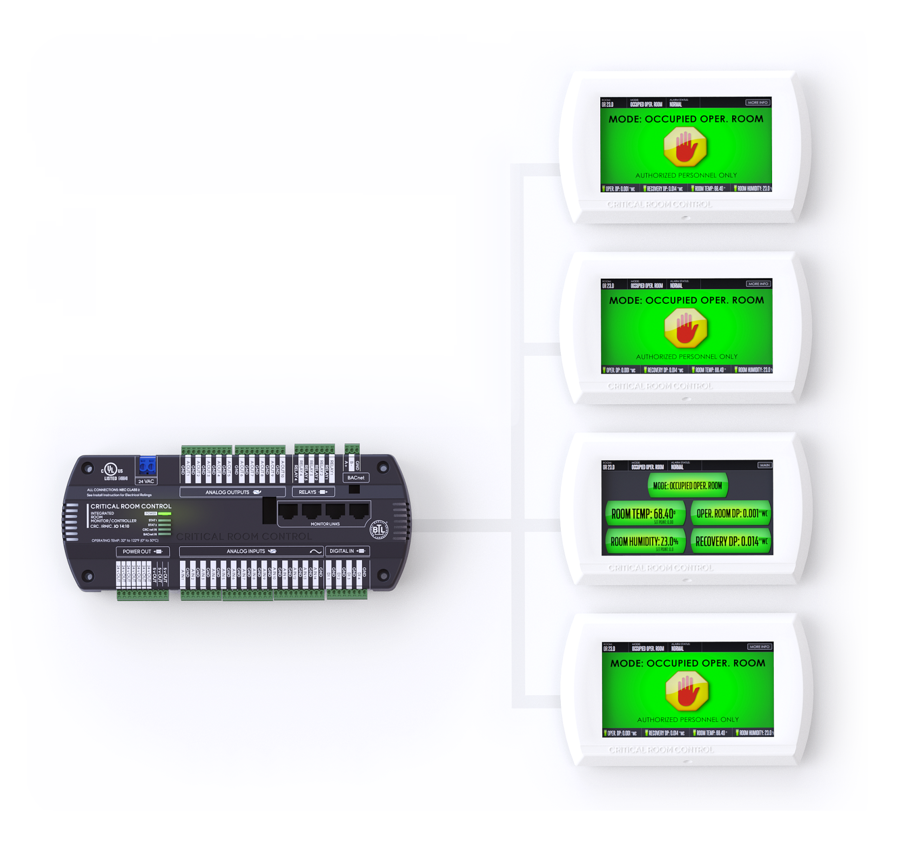 IRM/C DOCS:
Hardware features includes:

14 Analog Inputs
10 Analog Outputs
4 Digital Inputs
4 Relays
Use up to 4 touchscreen monitors
Monitors can be placed greater than 500' from controller
Fully isolated power supply by GE with a MTBF of 897 years
BTL Certified - full stack with read multiple, COV, and priority arrays


CLONE | ARCHIVE | RESTORE

Save multiple controller and monitor configuration files either locally or on SD card.

Owners can archive ALL parameters of each controller including commissioning data.
Installers can clone devices for faster setup.
Virtually no downtime with simple and fast software loading.
Customers can easily and quickly send and receive configurations from their reps or CRC.
Significantly reduce startup and commissioning time with controllers that are ready 'out of the box'.


FULLY TESTED AND CERTIFIED

Listing: UL 916, C-UL, BTL
Manufactured Under: ISO 13485:2003 Medical
FDA REGISTERED MANUFACTURER